Jen Psaki Caught Pushing Chinese Propaganda Straight From Her White House Podium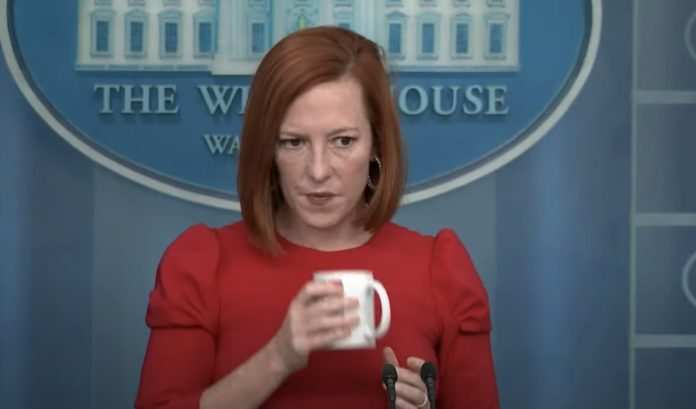 Jen Psaki, the White House press secretary, has been accused of spreading misinformation propagated by the Chinese Communist Party and its state-run media propaganda.
Psaki erroneously claimed that hate-filled speech regarding the origins of the coronavirus outbreak is fueling an increase in violence towards Asians in the United States.
This is a false claim that has been refuted numerous times. According to a Wall Street Journal investigation, the Chinese government is using bogus social media accounts to spread this deception in order to debunk the credible lab-leak scenario.
Anti-Asian violence has increased in the United States as a result of the pandemic, but it is concentrated in blue-state cities.
For instance, the previous two cases of violent violence against Asians were both committed in New York City by professional criminals with lengthy criminal records dating back before the pandemic.
Christina Lee, the Asian woman stabbed to death in her Chinatown apartment building in New York last week, was allegedly attacked by Assamad Nash, who had 27 prior felony charges against him.
It was described by prosecutors as a sexually motivated crime. It has nothing to do with theories concerning the coronavirus pandemic's beginnings.
Michelle Alyssa Go, the Asian woman who was shoved in front of a train and killed, was attacked by a disturbed homeless man who had previously been arrested.
The intention was not, once again, conjecture about the coronavirus pandemic's origins.
Psaki isn't the first to make the unproven link between the coronavirus's origins in Wuhan, China, and acts of violence against Asians. Allegations of an unjustified link reached a fever pitch last spring, with #StopAsianHate protests taking place across the country.
The increase in attacks coincided with the election of President Joe Biden, who has refused to put the coronavirus on the Chinese. Biden, according to Psaki, remains committed to ending violence against Asians.
A request for comment on Psaki's remark and China's propaganda effort went unanswered by the White House.