Helicopter Carrying Politicians Crashes After Hitting Power Line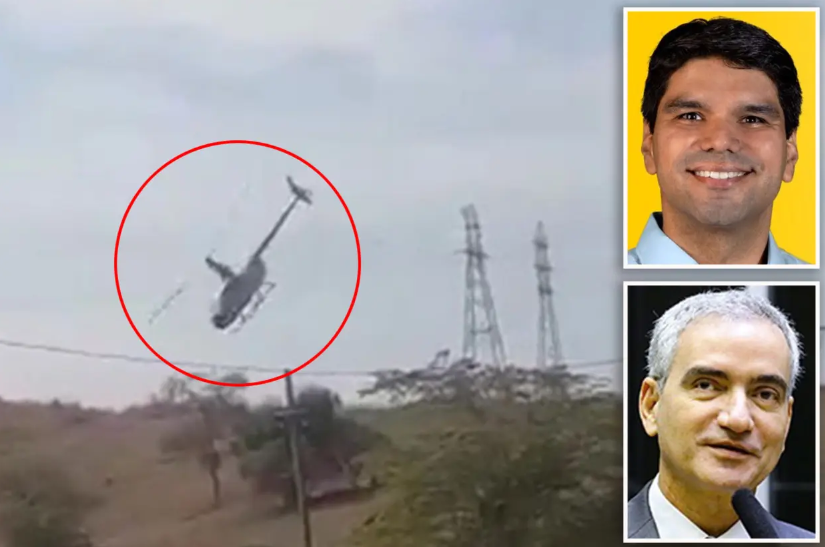 THIS is the startling second a helicopter collides with a power line before crashing to the earth, yet amazingly all the occupants escape.
In heartbreaking video, the plane that was carrying a politician, a deputy mayor, two other people, and the pilot, crashes to the ground.
The horrifying accident occurred on Wednesday in Engenheiro Caldas, Minas Gerais, Brazil.
In a horrifying video, a helicopter is seen striking a power wire as it lands in front of shocked witnesses.
After that, the helicopter seems to lose power, and the last image shows it nose-diving to the earth.
A fire was started by the collision and put out by firemen.
And all of its passengers were able to escape the debris with very minor wounds.
David Barroso, 45, the deputy mayor of Governador Valadares, and Herclio Arajo Diniz, 59, a Brazilian lawmaker who is up for reelection, were also on board the flight.
In addition to Luciano Viana, a member of Diniz's campaign team, the pilot's name was Fabiano Rufino.
They were all rescued by the police and firefighters and transferred to a nearby private hospital.
Local media said that the Fire Department claimed the plane went out of control, hit the electrical grid, and came to rest on the side of a roadway.
The communities of Sobrália and Fernandes Tourinho lost electricity as a result of the collision.
It happens after another presidential candidate's chopper crashed into the Panama forest last month.
Lawyer Dimitri Flores, who is running for office in 2024, narrowly avoided dying when his helicopter crashed to the ground while flying from the northern city of Changuinola to the city of David.
Aerial footage from the cockpit shows the plane passing over mountains before running into a dense fog area, which leads the pilot to lose control and crash into some trees.