Florida Gov Slams Biden At Florida GOP Gala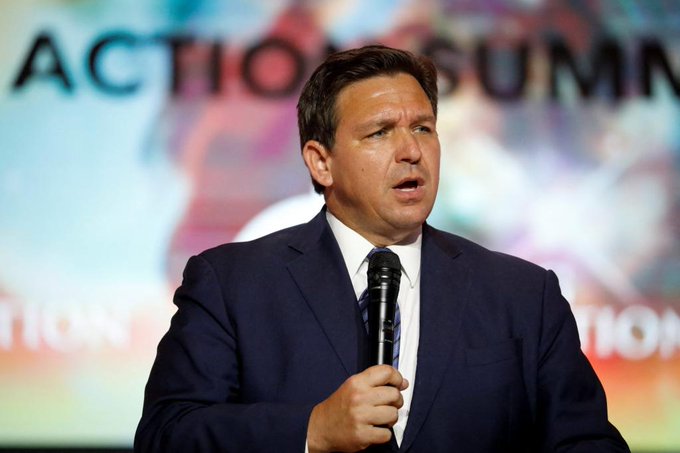 At a Republican fundraising dinner on Saturday night, Florida Governor Ron DeSantis delivered a furious speech to around 1,500 supporters in which he attacked President Joe Biden.
DeSantis bragged about his leadership of the Sunshine State while criticizing woke excesses and advocating for a red wave in November, all while former president Donald Trump held parallel court at a gathering in Tampa.
Biden's administration was regularly made fun of by the GOP firebrand and probable 2024 presidential contender by utilizing the derogatory "Brandon" nickname. He called it a wide-ranging catastrophe that had harmed the nation.
During his remarks at the Seminole Hard Rock Hotel and Casino, DeSantis reiterated his subtly expressed worry over the president's COVID-19 diagnosis.
DeSantis hailed the state's less strict lockout regulations and opposition to vaccination requirements as having sustained its economy, positioning Florida as a bulwark against leftist extremism.
He said that strategy had dramatically turned what had previously been a purple state red.
In front of an attentive crowd, DeSantis promoted several of his most contentious policy proposals, like as his prohibition on teaching young children about sexual orientation and gender identity.
Critics said that the law incites animosity among the LGBTQ population and demanded for its repeal, including large firms like Disney.
DeSantis, though, took great pleasure in his Saturday night fight with the Magic Kingdom, insisting that the state's greatest employer deserved to have its special tax status revoked.
DeSantis advocated against efforts to defund police agencies and prosecutorial leniency while a large number of law enforcement professionals were there.
The divisive governor attacked the GOP establishment by posing as a party outsider.
DeSantis has risen to the top of the GOP in recent years, garnering both fervent support and ferocious criticism. This might lead to a confrontation with Trump if both men run for the Republican nomination in 2024.
DeSantis avoided mentioning the previous president's name throughout his speech, continuing a regular pattern.