Psaki States Ridiculous Excuse For Bidens Terrible Polling Numbers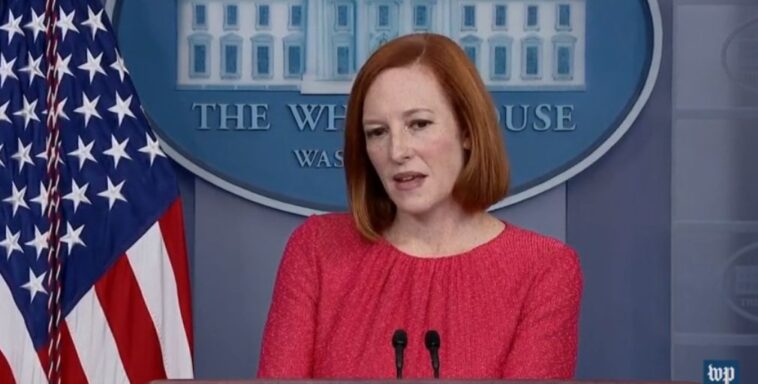 Jen Psaki, White House Press Secretary, was confronted on Friday by President Biden's dismal polling results. 
Psaki's answer just shows why Biden's approval ratings for job openings are so low.
"And you probably don't like to talk about polls, and you might say that they don't mean anything, but… the White House, when they're good polls, you publicize them," the reporter said. "So, what do you make of these, really, terrible polls? Is he doing something wrong? Is it just the communication? Or is it that he's doing unpopular things that have to be done? Or something else?"
"Sure. Well, look, I would say that this is a really tough time in our country," Psaki said. "We're still battling Covid and a lot of people thought we'd be through it, including us."
Jen Psaki's answer is flawed because Biden's voters voted for him largely due to the unfounded belief he would do a better job with America's Covid response than Donald Trump.
"We're going to beat this virus," Biden said. "We're going to get it under control, I promise you. "
The end of 2021 approaches quickly and the Biden administration has already incurred more Covid related deaths than Donald Trump's entire presidency. Despite the Trump administration performing the heavy lifting under Operation Warp Speed, and leaving the subsequent administration with a vaccine to fight the virus, this is still a significant number of Covid-related deaths. It is clear that the Biden administration has become too intolerant for the American people.
Quinnipiac's latest polling numbers on Joe Biden are nothing but a disaster. They are partly because Americans have lost faith in the Biden administration's Covid response.
"President Joe Biden receives a negative 38 – 53 percent job approval rating, the lowest score he's received from the American people on his job performance since taking office, according to a Quinnipiac University national poll of adults released today. In Quinnipiac's last national poll released 3 weeks ago, he received a negative 42 – 50 percent job approval rating.
"Today, Republicans (94 – 4 percent) and independents (60 – 32 percent) disapprove of the job Biden is doing, while Democrats approve 80 – 10 percent," Quinnipiac added.
Already, the Biden administration has been a disaster. The "terrible" polling numbers will only get worse as the White House continues to exacerbate the nation's problems through its failed policies.