Man Dead After Paramedics Refuse To Go Into Facility Due To Covid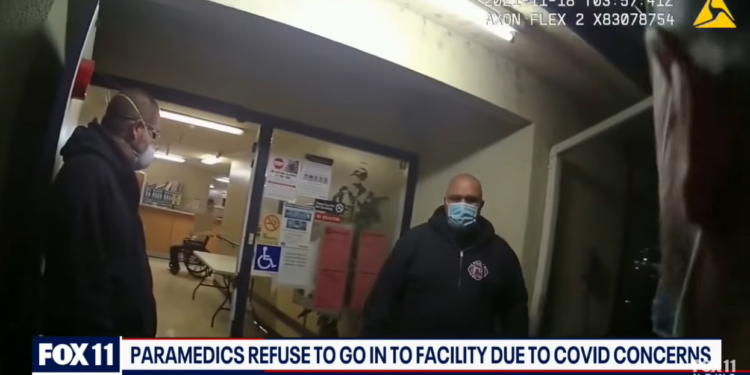 A California man died in a long-term care facility after paramedics refused to enter the building to treat him. The incident was reportedly caused by a COVID county restriction. Now, the city is investigating the circumstances surrounding his death.
Although it's not clear if Angulo could have survived, the video of Angulo's final moments shows that there was more that could have been done. A police officer walks the halls at Rialto Post Acute Care Center, as seen in a bodycam video. Two Rialto Fire Department officers are seen refusing to enter the facility from the entrance.
Watch The Video:
Ralph Ballew ( the police officer) can be heard telling a clearly frustrated nurse that paramedics wouldn't be allowed to enter the room due to "some [COVID] laws" and that they would have to transport the patient to a hospital. Ballew assists the staff at the care facility to push the bed down the hallway and towards the paramedics. It took almost five minutes.
Angulo was taken by ambulance to a hospital but was later declared dead.
Rialto City Fire Department Acting Chief Brian Park referred to the video footage as "troubling" and Rialto Mayor Deborah Robertson stated in a statement she supports independent investigations.
Robertson stated that the investigation would focus on the conduct and reasons for which the Fire Department personnel failed to enter the acute care facility right away. Our thoughts and prayers go out to the family of the patient, as well as our care center staff members who were forced into such an impossible situation.