San Fran Mayor Defends Violating Her Own Mask Mandate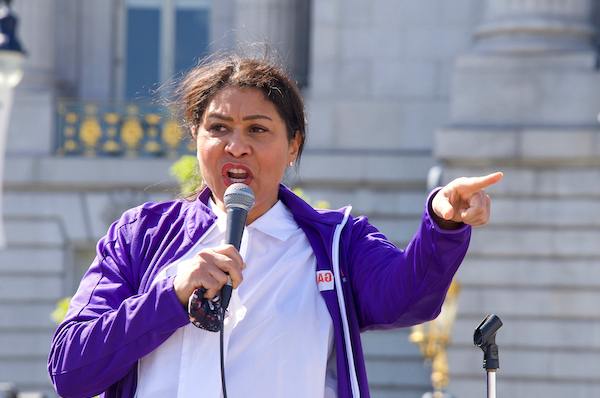 London Breed, the San Francisco mayor, is defending herself after violating her mask mandate at a packed event in a San Francisco jazz club last week. Breed had issued a mandate in August for all San Franciscans (except herself), that required them to wear masks indoors.
Breed said she "was feeling the spirit" and that people need to stop calling her a hypocrite because she doesn't need to hear from "the fun police."
ABC News reported that the mayor was seen red-handed last week, "dancing behind a table full of drinks, and "not wearing a face covering as she sang and posed for photos"
"Unmasked, singing, and dancing with an equally unmasked crowd, cell phone video shows Mayor London Breed inside a club in the Tenderloin on Wednesday night," the local outlet reported. "Breed and others enjoyed a surprise performance by Bay Area R&B group, Tony! Toni! Toné!, at the Black Cat on Eddy and Leavenworth Streets. But the maskless moment flies in the face of what [] Mayor Breed has been telling San Franciscans all pandemic long."
Breed unleashed her fury on Monday against critics who had called her out for violating her mask mandate.
"While I'm eating and drinking I'm going to keep my mask off," Breed deflected considering photos and videos showed her without a mask at all times. "And yes, in the time while we're drinking like everyone else there, we were all having a good time and again all vaccinated."
"My drink was sitting at the table. I got up and started dancing because I was feeling the spirit and I wasn't thinking about a mask," Breed explained. "I was thinking about having a good time and in the process I was following the health orders."
Breed stated that she doesn't need the fun police "to micromanage us and tell what we should and shouldn't do."
"The fact that this story became about me and less about the artists and nightlife, which I will continue to enjoy in San Francisco, is very unfortunate," she said as she just continued to prove that she was a hypocrite.
WATCH:
San Francisco Mayor @LondonBreed announced a citywide indoor mask mandate in August.

Here she is partying maskless indoors Wednesday night
pic.twitter.com/c6zwV4K3x2

— Daily Caller (@DailyCaller) September 17, 2021