Pelosi Signals She Is Willing To Scale Back Spending Plan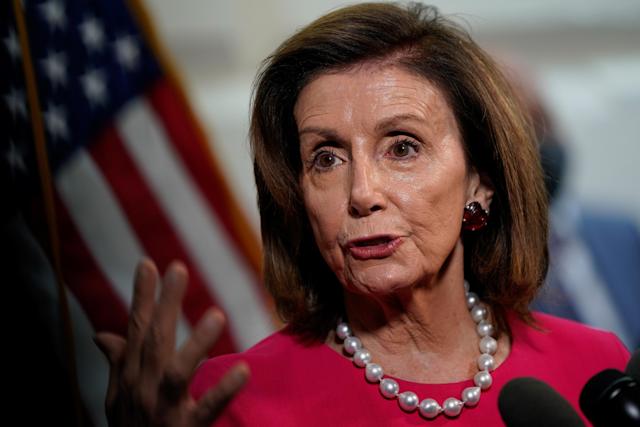 Nancy Pelosi, House Speaker (D-CA), indicated on Thursday that she is open to scaling back large parts of the $3.5 trillion spending program that some members of her party consider too expensive.
Pelosi stated that she would be willing to compromise with Biden on a permanent child credit package. This has been providing parents with up to $300 per child per month. The majority of this is in monthly direct payments to parents' accounts. She also said that she would forgo the corporate tax hike as a way to pay for the spending.
Democrats will instead accept a one-year extension to the child credit. The child credit was previously increased from $1,000 per child to as high as $3,600 depending on income. Parents with no taxable income will be able to get the entire credit.
The child tax credit advocates claim that it has reduced child food insecurity by half, and has one the greatest impacts of any government program for children. Pelosi stated that she would like the program to remain permanent, but is following the lead of the president by requesting a temporary extension.
"The president's big issue"
"This is the president's big issue," she stated. "It is called the Biden child tax credit. So if it's acceptable to him, in light of the bill, it's acceptable to me."
According to the Tax Foundation, a permanent child credit would cost $1.6 trillion over 10 year.
In the spending bill, the tax on corporations was to rise from 21% to 26.5%. The spending bill also included an increase in capital gains taxes, which were projected to rise $2 trillion.
However, Sen. Kirsten Sinema (D-AZ), has stated that she will not vote for any legislation that raises taxes on anyone. Biden and Pelosi hope getting rid of the corporate income tax increase will suffice to placate her.
Sinema and Manchin holding the line
Pelosi and Biden struggled to get their agenda through Congress due to Sinema (D-WV) and Sen. Joe Manchin, D-WV, who have opposed spending caps that are too high.
Even though the Senate is evenly divided between Republicans and Democrats, only Vice President Kamala Hari gives Democrats the majority when a tiebreaking vote is required, even these two senators can kill a bill.
Manchin said that he would vote for a $1.5 trillion scaled-down bill, which is less than half the original price tag.
Manchin stated that the Friday deadline to reach a deal on the bill would not be met. He also indicated that there is still much work to do before an agreement can be reached.