Mike Lindell Describes Alleged Attack At Cyber Symposium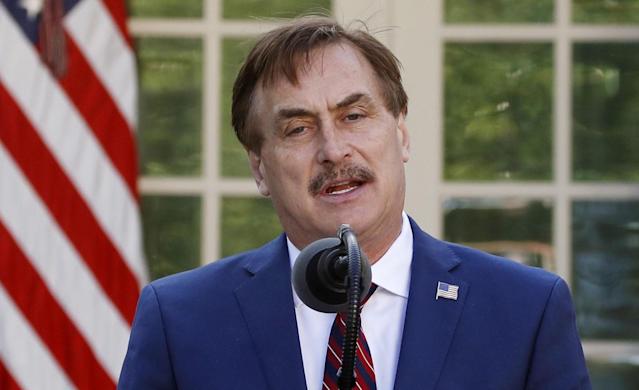 Mike Lindell, CEO of MyPillow, has now detailed the details of the alleged attack against him. It took place at a hotel close to his cyber symposium.
Lindell said that two men approached him to take a photo with him and that after the photo was taken with one a third man came "came up out of nowhere" to ask for a photo, he said to the conservative talk show "Flashpoint," Yahoo News reported.
"He put his arm around," he said, making a gesture to his side and indicating that something had been stuck there. "It was so much pressure, I just knew if I did anything, there was something more coming. And he jammed it in where it was just piercing pain."
He claimed that he was in severe pain, but he managed to get back to his hotel room. He said that he thought that if he tried to fight back, it would have been captured on surveillance cameras.
"I think it was a setup," he said.
On Thursday, he explained to South Dakotans at the cyber symposium that he had been attacked.
He made the announcement of his alleged attack at his event in Sioux Falls on Thursday, though he said that the attack occurred on Wednesday, The Argus Leader reported.
"I'm OK. It hurts a little bit," he said. "I just want everyone to know all the evil that's out there."
Mike Lindell was choked up opening the final day of his "symposium," claiming that he was "attacked" at his hotel last night. He later claimed it was "Anifa," but gave no details. pic.twitter.com/OAdfBzngLU

— Ron Filipkowski (@RonFilipkowski) August 12, 2021
His security guy then claimed that "agitators and provocateurs" have infiltrated the conference in an effort to discredit it. pic.twitter.com/Jjb8NeidDj

— Ron Filipkowski (@RonFilipkowski) August 12, 2021
Sioux Falls Police stated that Lindell has not made any reports about the alleged incident.
A SFPD officer will visit Lindell on Thursday to inquire about the incident, a police spokesperson Sam Clemens stated.
Lindell is in Sioux Falls for a "cyber symposium" where he announced in July that he hoped 300-400 "cyber-forensics experts" would attend and back up his claims that voting machines were hacked to flip votes intended for former President Donald Trump to President Joe Biden in November 2020.
"This is where our country's gone," the CEO said. "You take away the free speech. So they go after me. And they're going, 'Well, we try and crush his company and take everything from him.' And then they go after [me] physically."
"Now I've got to go around with a bodyguard," he said. "And I don't like bodyguards. I like to have American freedom to drive around, to do what I want, to not worry, to be able to take pictures with people."