Twitter Removes Marjorie Taylor Greene Account Over Covid Tweets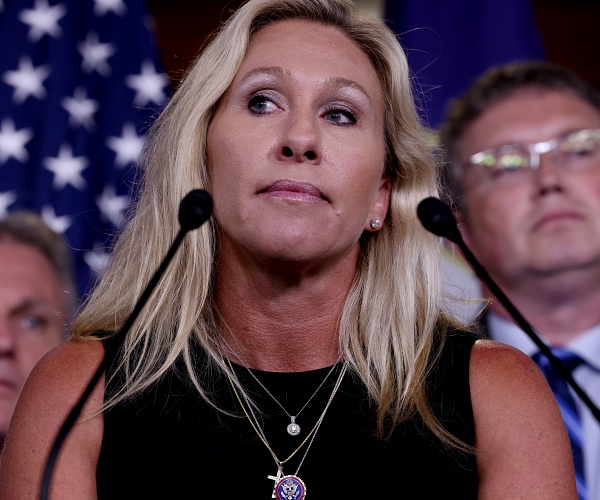 Twitter suspended Rep. Marjorie Taylor Greene's account for 12 hour after she posted tweets that violated its policy regarding sharing misleading information about COVID-19.
According to The New York Times, the company stated that the Georgia Republican's account would be suspended Tuesday after she posted tweets on Sunday and Monday that contained misinformation about the disease.
Twitter removed Green's account from its site on Monday, and promised that the block would be lifted Tuesday. The site posted the questionable posts online but marked them as misinformation and provided a link to health officials.
One of the Tweets posted Monday morning, Greene stated that COVID-19 is safe for those younger than 65 and not obese. She also said that vaccines shouldn't be necessary.
According to The Times, Greene stated in a statement that companies such as Twitter were working with the Biden White House on attacks against free speech. He also said that they are "doing their bidding to restrict our voices" and stop the spread of messages that aren't approved by the state.
Twitter banned users from sharing misinformation. In March, it issued a policy explaining its penalties.
Users who receive multiple "strikes," notices or notifications about their posts, will be subject to a 12-hour ban. This is similar to the Greene ban. Users are suspended for seven-days after four strikes and banned permanently after five.
Twitter bans users for other offenses, such as when it banned former President Donald Trump in January after it claimed that his social media posts had incited violence during Jan. 6 Capitol incidents.
Trump has been suspended by Facebook. He claims that companies are censoring Trump and has filed class action lawsuits against Google and the CEOs of tech giants.
Greene was also removed from Twitter in April. However, the company blamed it on an error in its automated systems and not her posts. Greene tweeted that the company had been lying after her suspension was lifted.
After President Joe Biden called last week on social media companies for more action to stop misinformation spreading about the vaccine, the congresswoman was suspended. He said that Facebook and other sites are "killing people". Biden stated that the only pandemic currently in existence is among unvaccinated people, and they are killing people.
Facebook countered that Biden's attack wasn't based. On Monday, President Obama amended his criticism by stating that it was not Facebook that is responsible for spreading misinformation, but some of its users. He still called for the site to combat the "outrageous" misinformation users spread, rather than being personally insulted.