The Military Left A Message For Terrorists On The Bomb They Dropped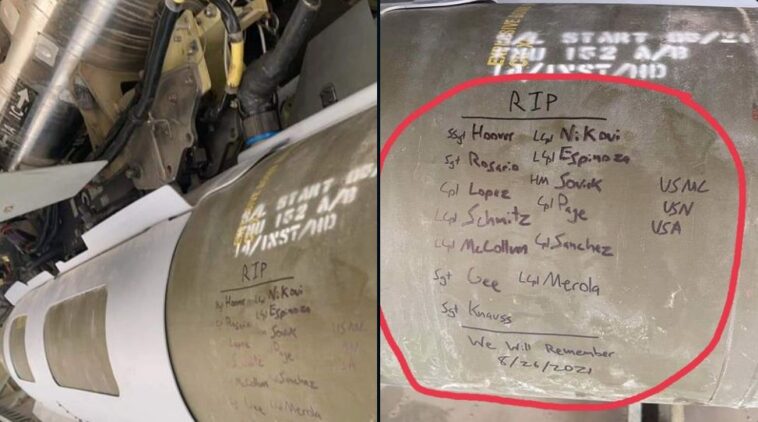 On Sunday, the U.S. military conducted a pre-emptive strike against an incoming suicide bomb attempt Sunday. This suicide bomb attack occurred less than 24 hours after President Biden had stated that such an attack was possible.
"A U.S. airstrike Sunday targeted a vehicle carrying 'multiple suicide bombers' from Afghanistan's Islamic State affiliate before they could target the ongoing American military evacuation at Kabul's international airport, " the AP stated.
"There were few initial details about the incident, as well as a rocket that struck a neighborhood just northwest of the airport, killing a child," the report continued. "The two strikes initially appeared to be separate incidents, though information on both remained scarce."
Zabihullah Mujahid, a Taliban spokesperson, stated earlier in a message to journalists "The U.S. strike target a suicide bomber who drove a vehicle loaded full of explosives," according to the AP.
"Two American military officials, who spoke on condition of anonymity to discuss military operations, called the airstrike successful," the report added. "They said the strike caused 'significant secondary explosions'indicating the presence of a substantial amount of explosive material in the vehicle."
Multiple military sources confirm that servicemen left a message for terrorists on the bomb they would drop later.
The US missile that targeted a suicide bomber in a vehicle moments ago has a message on it. pic.twitter.com/HtqSlU44z0

— ماك🧢מאק (@beingrealmac) August 29, 2021
It is simple and effective: "RIP" along with the last names of the 13 soldiers who died in Afghanistan on Thursday. It also adds military branches, USMC, USN and USA.
It says below: "We will remember: 8/26/2021."
Below are the full names of all those who were killed in the attack on Afghanistan.
Marine Corps Lance Cpl. David Espinoza, 20, of Rio Bravo, Tex.
Marine Corps Sgt. Nicole Gee, 23, of Roseville, Calif.
Marine Corps Staff Sgt. Darin Taylor Hoover, 31, of Utah
Army Staff Sgt. Ryan Knauss, 23, of Corryton, Tenn.
Marine Corps Cpl. Hunter Lopez, 22, of Indio, Calif.
Marine Corps Lance Cpl. Rylee McCollum, 20, Jackson, Wyo.
Marine Corps Lance Cpl. Dylan R. Merola, 20, of Rancho Cucamonga, Calif.
Marine Corps Lance Cpl. Kareem Nikoui, 20, of Norco, Calif.
Marine Corps Cpl. Daegan William-Tyeler Page, 23, of Omaha
Marine Corps Sgt. Johanny Rosario, 25, Lawrence, Mass.
Marine Corps Cpl. Humberto Sanchez, 22, Logansport, Ind.
Marine Corps Lance Cpl. Jared Schmitz, 20, of Wentzville, Mo.
Navy Hospital Corpsman Max Soviak, 22, of Berlin Heights, Ohio
Biden had earlier stated that he had authorized strikes against two ISIS-K "planners", who are allegedly involved with the suicide bomb attack on Thursday that claimed 13 U.S. military personnel. Biden promised that he would launch more retaliatory attacks.
"This morning, I met with my national security team in Washington and my commanders in the field. We discussed the strike that U.S. forces took last night against the terrorist group ISIS-K in Afghanistan," Biden's statement said. "I said we would go after the group responsible for the attack on our troops and innocent civilians in Kabul, and we have," he claimed.
"This strike was not the last," he stated. "We will continue to hunt down any person involved in that heinous attack and make them pay. Whenever anyone seeks to harm the United States or attack our troops, we will respond. That will never be in doubt. I thanked General McKenzie for his leadership of that mission, and for his commitment to the safety of our troops in Afghanistan."
"The situation on the ground continues to be extremely dangerous, and the threat of terrorist attacks on the airport remains high," he continued. "Our commanders informed me that an attack is highly likely in the next 24-36 hours."
Based on reports from Afghanistan, that was indeed the case. Unrelated to the incident, a rocket attack in Kabul was reported earlier on Sunday.
"Local media in Afghanistan reports there's been an explosion in Kabul," Alex Salvi reported. "Witnesses say the blast is from a rocket that struck a residential building."
Video captured the aftermath of the explosion. According to reports, the explosion occurred near al-Shaheed road about 3kms from Kabul's airport.
JUST IN – Explosion rocks #Kabul. The blast hit a residential building west of the airport. Cause unclear.pic.twitter.com/vzh7T651KM

— Disclose.tv (@disclosetv) August 29, 2021
The State Department has warned Americans not to travel to Kabul airport as the deadline for leaving the country on August 31 is rapidly approaching. It is unlikely that all Americans will be able to leave the country before the deadline due to rocket attacks and suicide bombing attempts at Kabul airport.