Republican Reveals A Big Biden Lie About The Border Crisis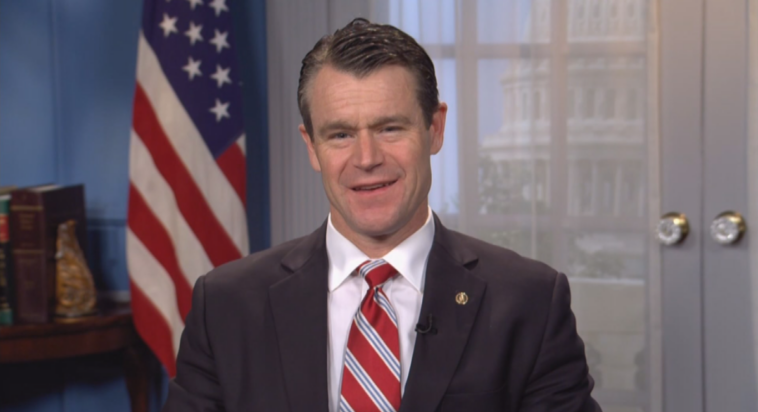 One Republican lawmaker is raising alarm over Joe Biden's insistence on falsely claiming there is no crisis at the U.S.–Mexico border.
An Op-ed by Todd Young, an Indiana Republican Senator, warned that Biden will "re-open" the southern border in just a few weeks. Things are about to get worse.
"This might come as a surprise to my fellow Hoosiers who have watched the crisis at the border go from bad to worse over the past six months. Based on the record entries we've seen, one might think the border couldn't become even less secure than it is right now. But it can," Young wrote.
"At the beginning of the pandemic, then-President Trump issued a public health order that helped limit the number of illegal crossings. The Biden administration will soon lift that order," he added.
"The crisis on our southern border — in areas that neither President Biden nor Vice President Harris have visited — is real. While the Biden administration is asleep at the wheel, here are the facts regarding the untenable situation on our border," he said.
"In May, over 180,000 illegal immigrants tried to enter our country, which is higher than the figures in February, March, or April when the Biden-Harris border crisis began. Drug trafficking is up. According to U.S. Customs and Border Protection, we have seen a nearly 300 percent increase in fentanyl seizures, along with other drugs, when already 90 percent of illegal drugs purchased in the U.S. come from Mexico," he said.
"I recently pressed DHS Secretary Alejandro Mayorkas for clarity on how many terrorists are being apprehended at the southern border — a number that continues to change no matter who you ask. The classified response I received was eye-opening and sobering," he said.
Numerous Republican legislators warn that the migrant crisis at America's southern border could get worse if Democrats keep their open-borders policies.
"It's the worst I've ever seen it," Texas GOP Rep. Roger Williams told The Epoch Times.
"You've got people that that are coming through here illegally, they need to be coming through the ports of entry, not between the ports of entry. We've got an administration that is actually inviting them to come. And some, many of them, think that they just touch the soil of the United States, they're citizens," Williams added.
Republicans demand that the Biden administration implement stronger border policies.
"This philosophy of open borders is going to be the destruction of our great democratic republic that we're all so proud of and have enjoyed the liberties and freedoms of past generations and to pass it on to future generations we've got to have a secure border. If we don't have that secure border, this country is in very dire straits and in grave danger of destruction," Texas GOP Rep. Brian Babin said.
Williams stated that he believes Democrats' inaction on the border will cost them in the 2022 midterm elections.
"This is going to be one of the things that will defeat them in 2022, is the lack of border security, and the lack of doing your job to secure the border, the sovereignty of our country," Williams said.
Ron Vitiello, former Acting Director of Immigration and Customs Enforcement, is calling out Joe Biden because he directly participated in the creation and allow the border crisis to get worse.