Pence Seeking $18 Million Ahead Of Possible 2024 Run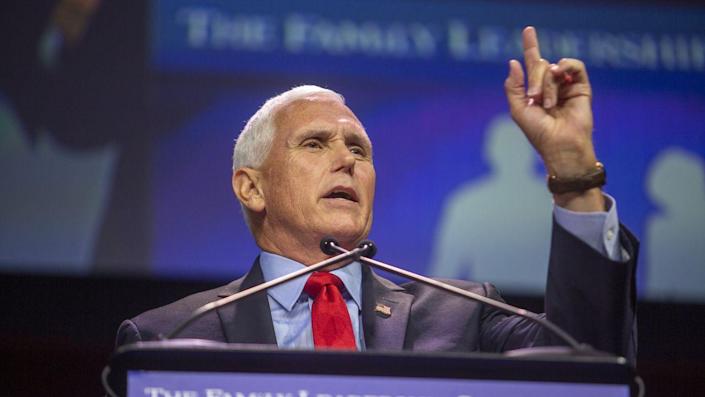 Mike Pence is preparing for a run for the presidency in 2024 by raising $18 million this year.
Why it is important: Although polls show Donald Trump to be the early Republican favorite, his former vice-president has also been moving towards becoming a candidate. His group, Advancing American Freedom is being used to test the waters and build the infrastructure necessary for a White House bid.
Driving the news: The group is staffed with some of Pence's top allies, ex-aides, and political advisers, such as Marc Short, former chief of staff, Marty Obst, and Paul Teller, former senior Trump White House staffer.
According to a source, donors were asked to contribute a percentage of the target amount at a Jackson Hole retreat.
According to reports filed with state charity regulators, AAF also has three fundraising companies to help it build its war chest.
A source familiar with the group's operations said it's aiming to raise $18 million during its first year — a huge sum for a new nonprofit group that doesn't offer its donors a tax break.
Between the lines: AAF was a platform that Pence used to promote his social conservative brand and his media appearances.
The group was launched in April and has spent approximately $60,000 on digital ads to promote the Indiana Republican Party and ask for donations.
AAF could be a platform for pre-campaign activities, such as polling or candidate travel, if Pence is serious about a run in 2024. It could also invest a large portion of its funds in a political support group if he is elected.
The big picture: A Pence run looks stronger as he participates in political events within key presidential swing states.
He has also raised funds for prominent Republicans, such as Kevin McCarthy (R.Calif.), Glenn Youngkin (Va. gubernatorial hopeful), and Randy Feenstra (Iowa Republican Rep.).
AAF is also working to improve Pence's social conservatism with a pair briefs filed at the Supreme Court.
One seeks to overturn Roe v. Wade and the other aims to strike down limits on state education funding for religious schools.