Obama Caught Maskless During Extravagant Birthday Celebration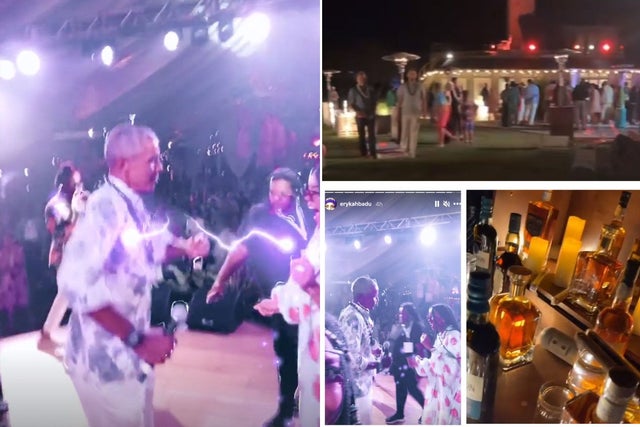 New video shows former President Barack Obama, despite concerns about the new Delta coronavirus variant. He was seen dancing without a mask during his highly-criticized 60th Birthday party on Martha's Vineyard on Saturday night.
Erykah Badu posted the video to Instagram. She is a well-known singer and songwriter who was there along with many other celebrities. Badu has since deleted the video from her Instagram account. Other partygoers removed photos they had posted of Obama socializing with guests without a mask, according to The Daily Mail.
Obama's dancing to "Get Me Bodied" with Erkyah Badu and you're buying pallets of masks at Costco for the upcoming school year.

This is why we will win back the House in 2022. pic.twitter.com/gk36yosCyK

— Amy Tarkanian (@MrsT106) August 9, 2021
Last week's news about Obama's birthday bash was met with criticism. Several jurisdictions have reinstated public health mandates for the Delta variant. Following the backlash, the New York Post reported the Obamas "cut down the tremendous guest list" and would distribute masks to those attending the event.
The party took place in an outdoor tent on the multi-million-dollar Martha's Vineyard estate of Obama. It is located in Dukes County in Massachusetts. According to the CDC, Dukes County is a high-community transmission area. Local officials are encouraged to encourage universal masking in indoor public areas and other layered prevention strategies to stop further spread.
Critics called it a "super spreader" party, and the latest video of Obama maskless dancing has sparked renewed anger on social media.
CDC guidance favors open-air tents, noting "enclosed 4-wall tents will have less air circulation than open air tents." It is unclear whether or not the main party tent used at the birthday party was 4-wall or open air.
Over the past few weeks, several public officials were criticized for not following coronavirus guidelines. DC Mayor Muriel Bowser was criticized for celebrating her birthday maskless just hours before D.C.'s renewed mask mandate was put into effect.
According to Fox News, Chicago Mayor Lori Lightfoot also allowed Lollapalooza to continue despite threats to restore public health mandates in the event of an increase in coronavirus cases. Lightfoot cited the event's location and the reportedly high vaccination rates of its attendees as reasons to allow it to happen.