Navy SEAL Who Killed Bin Laden Absolutely Shreds Dems Over Afghanistan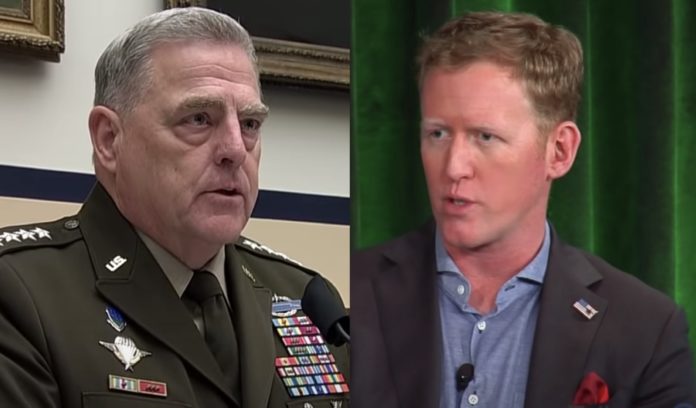 Rob O'Neill, a former U.S Navy SEAL who killed Osama bin Laden had some words to say about the pull out.
Now O'Neill is Unleashing on Biden's administration after the disastrous decision to withdraw U.S troops from Afghanistan.
It was a terrible mistake by the Biden administration to fail to grasp the Taliban movement and prepare effectively with the Afghan government.
U.S. troops were Under fire At least twice while they were at Kabul's Karzai Airport, the NY Post Reports.
"Thousands of Afghans have been filmed desperately chasing after and clinging to a US Air Force plane as it taxied down the runway — with multiple people plunging to their deaths after the aircraft took off in the frantic attempt to flee the country after the Taliban takeover," the report adds.
O'Neill demanded that General Mark Milley resign. Milley is chairman of the Joint Chiefs of Staff.
"There are Afghans falling to their deaths off of our retreating aircraft," O'Neill said.
"Has @thejointstaff resigned yet?" O'Neill said. "Has this dude quit yet?"
This is real. Wake up. pic.twitter.com/msRC2E6bnw

— Robert J. O'Neill (@mchooyah) August 16, 2021
In response to the chaos in Afghanistan, O'Neill made these nine comments:
1. "This is the worst loss in American history. Our most popular president has vanished. Prove me wrong."
2. "Everything Democrats touch turns to s**t. Prove me wrong."
3. "My friends who died for no reason would be disgusted with this administration."
4. "Have any of our generals and admirals resigned out of disgrace yet?"
5. "We've heard more from The Taliban than we have from the most popular president in our history. Anything @PressSec ?"
6. "People are being killed trying to evacuate Kabul. But don't worry… Jen Psaki will tell us what's actually happening once dips**t goes to sleep."
7. "Do I have this all right?: Our border is wide open, China's biological weapon is surging, we closed our pipelines but opened Russia's, the Taliban is back in charge, we are defunding the police and people with penises are women. What did I miss?"
8. "Joe Biden opposed the raid to kill bin Laden. At least he lost Afghanistan in 7 months."
9."Remember when people held hands and jump to their deaths out of the twin towers? Neither does @POTUS"
Check Out Some More Tweets:
There are Afghans falling to their deaths off of our retreating aircraft. Has @thejointstaff resigned yet?

— Robert J. O'Neill (@mchooyah) August 16, 2021
Has this dude quit yet? @thejointstaff

— Robert J. O'Neill (@mchooyah) August 16, 2021
"Freedom itself was attacked this morning by a faceless coward. And Freedom will be defended" Unless a worthless politician is in charge.

— Robert J. O'Neill (@mchooyah) August 15, 2021