Leftists Throw A Tantrum After Sylvester Stallone Joins Trump's Mar-a-Lago Club
Anyone that's associated with Donald Trump is to be condemned by liberals, based on The Western Journal.
Sylvester Stallone, seemingly a long-time buddy of Trump, recently purchased a massive mansion very close to the Mar-a-Lago resort.
Stallone first paid a $200,000 upfront fee to join Trump's club in The Mar-a-Lago Resort.
Then Stallone followed by shelling out $35 million for a 13,241-square-foot mansion in Palm Beach, Florida.
Stallone remarked that Trump is"gonna do great [as president]. Because I've worked with him and known him a long time. He's a guy who is not programmed to fail."
He's"a nice guy. He really is. Very personable."
Twitterers and liberals took to social media to express their disapproval.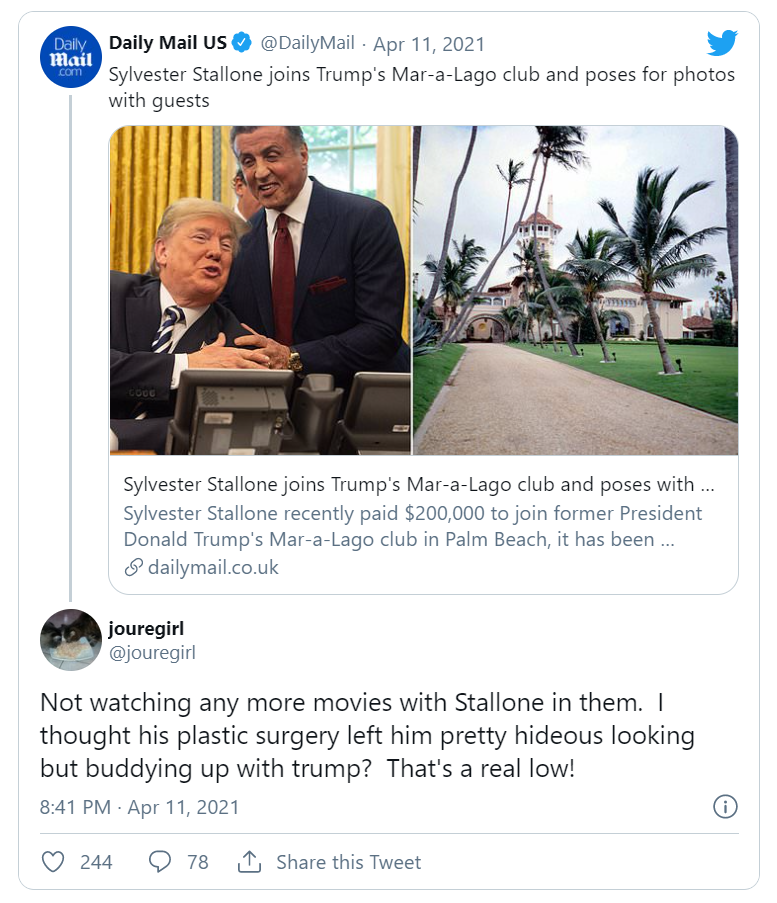 Stallone has had a difficult life and came from the very bottom. Once, he even had to sell his best friend, his dog.
Only to go back to the vendor later on paying a lot more money than he sold him for.
Stallone is a man of heart. A man that came from very hard times.
Now Stallone is on top of the world. Twitterers probably won't bother him too much.