Hillary Clinton Gets Blasted As She Walks Into University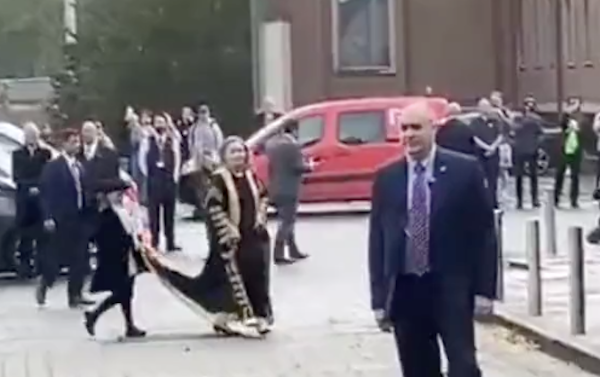 Hillary Clinton, the failed presidential candidate, was confronted by angry protesters as she entered Queen's University Belfast. One of them told her to "go ***""
As she entered the building, angry protesters shouted at her and called her a "war criminal". Others shouted "Shame On Queens!" Shame on you!" "Go f*ck yourself!"
WATCH BELOW:
Hillary Clinton walking so pompously into Queens University in Belfast as a child carries the tail of her cape and bystanders call her a war criminal is one of the funniest things I've ever seen pic.twitter.com/Q07DYgch5I

— Kate Hyde (@KateHydeNY) September 24, 2021
Take a look at what Daily Caller reported.
The students were protesting America's foreign policy, according to BBC.
As a New York Senator in 2002, Clinton voted in favor of the war in Iraq. During her tenure as U.S. Secretary of State from 2009 to 2013, Clinton persuaded President Barack Obama to participate in the bombing of Libya, "leaving Libya a failed state and a terrorist haven," according to the New York Times. She also supported the 2009 troop surge in Afghanistan.
Clinton, who was appointed in January 2020, spoke at the event for about 15 minutes, during which time she encouraged the people of Northern Ireland to "work together to resolve their differences over Brexit and dealing with the legacy of past violence," according to BBC.
Nancy Pelosi, Speaker of the House, had a similar encounter last week while visiting the U.K.
Pelosi visited the country and was confronted by angry English protesters, who demanded that she "go back to Epstein Island" as Trump won.
"Trump won!… You're not welcome here… Go back to Epstein Island!… We don't want you!… The whole world knows that Trump won the 2020 election!" the protesters yelled.
"Repent! Jesus is coming for you Nancy." said others.
WATCH IT ALL HERE :