Biden Is A Little Too Flirty With Newlywed in Middle of CNN Townhall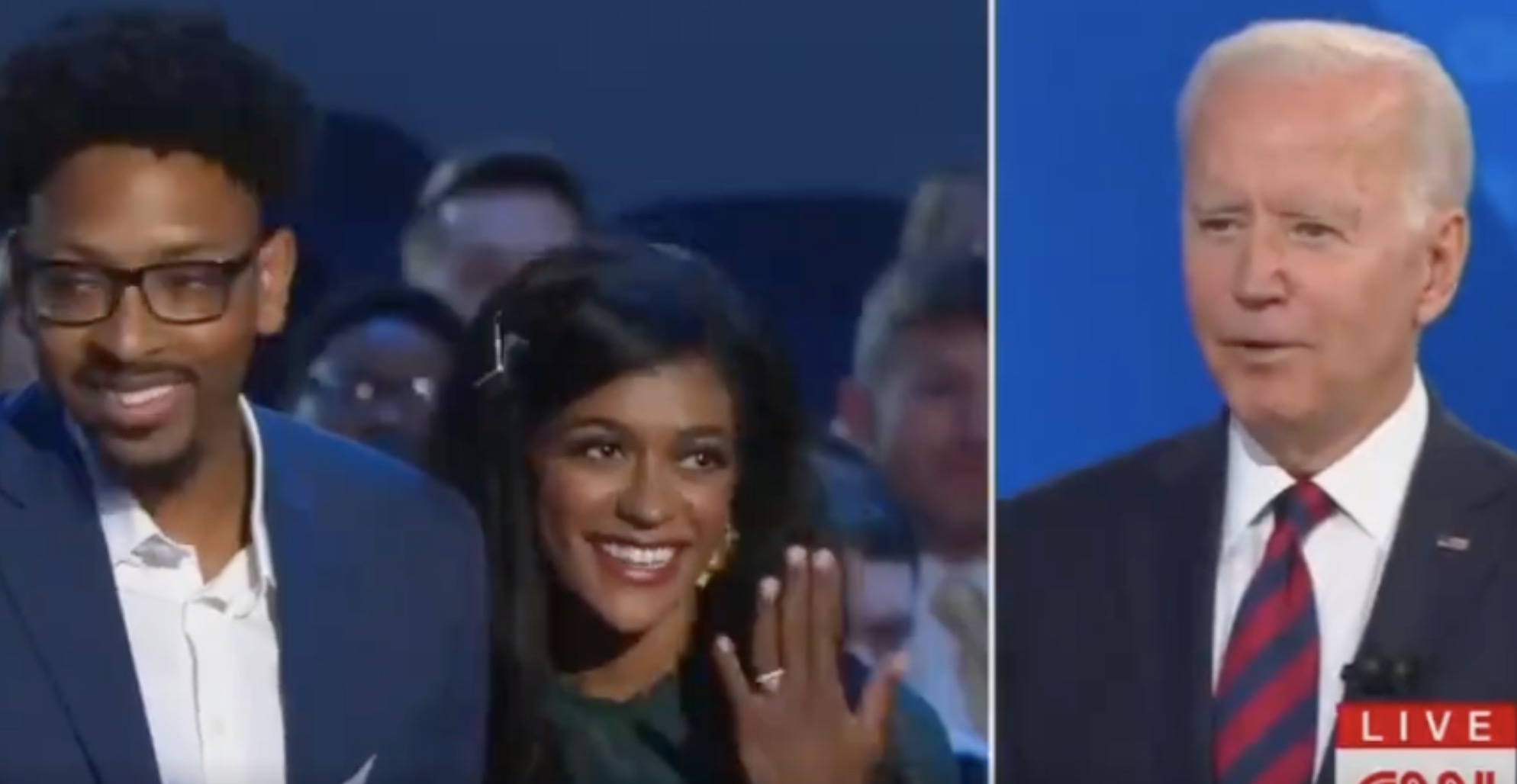 Well, this was awkward.
On Wednesday, President Joe Biden addressed a half-empty audience in Ohio for a CNN Town Hall. He flirted and leaned over a newly married bride while regaling them about "a man on Mars" and "aliens" as he discussed getting vaccinated against COVID-19.
Don Lemon hosted the event and referred to the president at the town hall as "the big man". Biden stammered through most of the event and had a problem finishing sentences once again.
A newlywed couple asked the third question at the town hall about vaccinations. It quickly became awkward.
Christian Oliver addressed the president, "Well, so my wife Stephanie and I are newlyweds as of this past Saturday." Biden at that point eyed the man's wife and told him, "I'd brag if I were you, too. As they say, when they look at me and my wife, you married up, kid."
Oliver then asked after the exchange, "Thank you. We required all of our guests and vendors to be vaccinated to ensure safety. We are African-American, and in many of our communities, people are against the vaccine. A reason that stood out the most in regards to our guests is that they don't see the vaccine as being as safe as the CDC puts it out to be. How are you working towards convincing those in these communities that the vaccine is safe?"
Biden's answer started off being a word salad and didn't get any better.
"It's really an important question, because in the African-American community, there's less of an uptake of the vaccination. Number one, there's a reason for that. You know, you go back just to — even World War II, African-Americans were used as experimental — they were almost like guinea pigs in terms of — they were — anyway, it — and your mom and dad remember that and your grandparents remember that. And so there's a reason for people to think that, 'I don't know, I'm not sure I trust. I'm not sure I trust this.' Plus a lot of disinformation on top of it," the president stated.
Oliver never got an answer. He did talk about community leaders and those with low incomes, as well as how he got his foot-soldiers into the area to vaccinate residents. Incoherently, he spoke about the Tampa Bay Buccaneers as well as athletes. Biden began to talk about the support of black clergy and their opening of churches as vaccine centers.
Don Lemon, CNN host, stepped in at that point.
Watch The Video Here:
Third question came from a Democrat newlywed who works in the insurance industry, who made the mistake of bringing his wife along as Biden then promptly checked her out and gave that creepy smile.

They asked about vaccine hesitancy in the Black community. #BidenTownHall pic.twitter.com/NxggibT4gz

— Curtis Houck (@CurtisHouck) July 22, 2021