Biden Blasted for Looking at Watch During Ceremony for Fallen Soldiers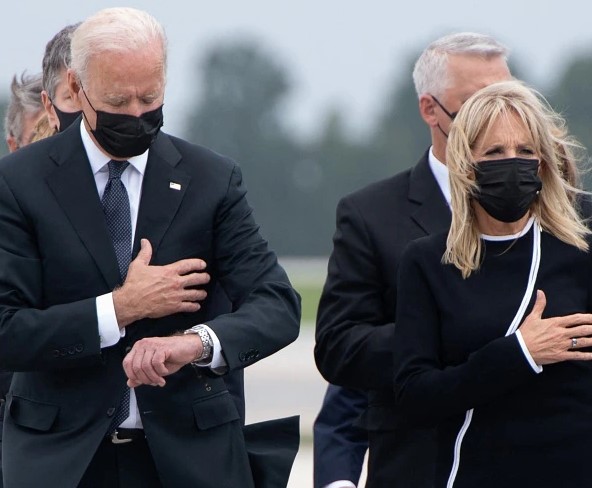 Critics blast President Joe Biden's apparent glance at his watch Sunday as he attends a solemn ceremony honoring the 13 U.S. troops killed in a suicide bomber attack last week in Afghanistan.
Biden and first lady Jill Biden were at Dover Air Force Base in Delaware for a dignified transfer, a military ritual honoring the remains of fallen service members who died in combat, The New York Post reported Monday.
Biden held his right hand up to his chest as flag-draped coffins were lifted off the Air Force C-17 Globemaster aircraft.
Biden was seen looking at his watch and then putting his arms behind him. This move was criticized by conservatives as well as veterans.
"Looks like he was being inconvenienced by having to show some respect for these American Heros [sic]," tweeted Samuel Williams, a disabled U.S. Army veteran.
"It's true. Joe Biden checked his watch during the dignified transfer of the servicemembers (killed) in Afghanistan at the airport. You can see him jerk his left hand to pull the watch out from under his sleeve, then look down at it," columnist Nicholas Fondacaro tweeted.
Former governor Mike Huckabee (Republican from Arkansas) said that Biden's action made him recall a similar move by George H. W. Bush.
"Many of us remember Pres Bush 41 checking his watch during a debate and how awful it looked (even though we all felt same way about that debate.) But this is shocking and will be remembered," Huckabee tweeted.
Ronny Jackson (Republican from Texas) criticized Biden's gesture via a tweet
"Apparently our Commander-in-Chief has better things to do than honor the 13 service members who died on his watch? I'm DISGUSTED! God bless these heroes and their loved ones. They deserved better," tweeted Jackson, a former White House physician.
Nile Gardiner, a foreign policy analyst and former aide to ex-British Prime Minister Margaret Thatcher, tweeted: "There is nothing more important than paying your respects to America's fallen war heroes, Mr. President."
An ISIS-K suicide bomber attack on Kabul killed 13 soldiers, including one Marine, one Navy sailor, and one Army soldier. They were helping to evacuate Afghans and Americans after the Taliban took control of Afghanistan.