AZ Attorney General Rips Into Biden For Releasing COVID Positive Migrants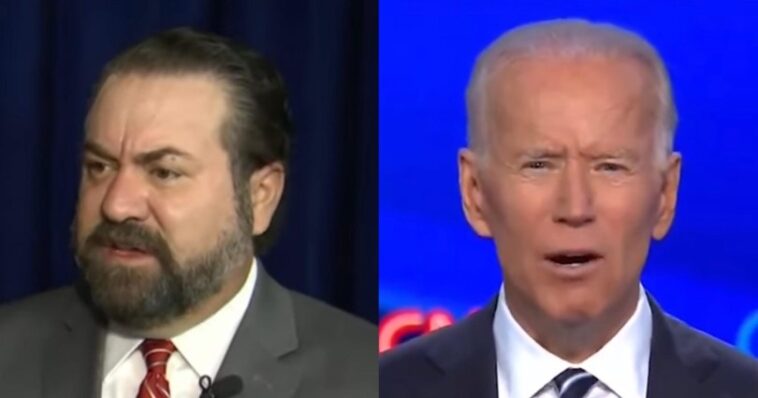 Arizona Attorney General Mark Brnovich is suing the Biden administration over their release of COVID-positive immigrants into American communities.
In a scathing letter to Homeland Security Secretary Alejandro Mayorkas. Brnovich demanded the Biden administration cease releasing COVID-19 migrants into this country.
"As the Biden administration is ramping up pressure campaigns for COVID-related mandates, this revelation shows incredible hypocrisy and disdain for the health of everyday Americans. If this is true, I call on your Department to cease these actions immediately," he wrote.
Brnovich stated, "This is an astonishing admission that has serious implications for border communities and state,"
Brnovich requested an "accounting COVID-positive individuals who have been released in Arizona by Customs and Border Protection agents (CBP) since President Joe Biden took office."
Brnovich continued by arguing that the current border situation has "compromised security and safety in countless American communities."
"Since the start of the 2021 fiscal year, CBP has apprehended over 1.1 million migrants at our southern border," Brnovich said. "We also know that there are (at least) tens of thousands of migrants (or 'gotaways') who escape detection and blend into our communities."
"With these 'gotaways' and the return of 'catch and release' for migrants we apprehended, we have few, if any, mechanisms in place for the enforcement of our immigration laws," he added.
Brnovich warned, "drug, human and sex traffickers operate almost impunity on both sides"
Brnovich has been raising the alarm about the border crisis for some time.
Brnovich, in an interview with Fox News last month spoke out about the crisis at America's southern border. He also explained why he believes the Biden administration is "stupid."
BRNOVICH: "Well, Sean, I think it's as simple as this for everyone watching tonight, is the Biden administration is making a choice between migrants and Americans, and they are telling the wrong people to stay home. They literally are trying to shut down our economy. And I keep emphasizing to folks that the biggest health crisis facing our country today is the Biden administration, because we may have three vaccines for Covid, but there is no cure for stupid. And what the Biden demonstration is doing is just plain dumb, Sean. You know that there are millions of people illegally crossing our southern border, a small percentage of them have been adequately vaccinated. They are packed into detention centers, we see record number — it's going to be a catastrophe, not only a public health crisis. And so the Biden demonstration, as you know, Sean, is trying to get rid of Title 42, which essentially President Trump used to literally expel hundreds of thousands of people out of this country for public health reasons. So which is it, Joe Biden? Do we have a public health crisis where we are going to lock down our economy, or alternatively, we're going to go ahead and let people in and gut Title 42 which is designed to protect the public health?"
Back in April, Brnovich sent a letter to Republican Gov. Doug Ducey asked Brnovich to declare a state-of-emergency in the state and to deploy the National Guard to handle the influx of migrants at the U.S.–Mexico border.
Brnovich stated that "reversing the disastrous trends at the frontier will require enforcing and holding the federal government responsible" and urged the state government "swiftly."